March - April 2009
Adventure in Nepal
Background
In March 2009, after almost two years of planning and endless hours of training, 27 Ghostriders and friends headed off to Nepal to complete a 12 day trek in the Annapurna – Dhaulagiri region. The participants formed two trekking parties, with 14 trekkers in Group 1 and 13 in Group 2. Although the two groups followed the same route, Group Two followed one day behind Group One. The following account details the experiences of Group Number One.
The participants
Group One Trekkers
Dennis Dawson – Organiser
Paul Barnard
Barbara Meurer
Linton Harriss
Viv Sandler
Noel Wolstencroft
Richard Coxhill
Gael Driessen
Glenda Wise
Michael Litchfield
Monica Litchfield
Kevin Henley
Linda House
Karen Dix
Nepali Staff
Trek Leader - Subal Basnet
Sirdar – Phubra
Sherpa/Guides – Birbal, Thering, Maila, Tanka
Chief Cook – Krishna
Kitchen Aides – Santos Gushing, Chan Chatamang, Wanchuk, Tika, Pashupati, Ramesh, Rajkumar, Manbhadur
Porters – Santos, Rambahadur Tamang, Tulsi, Jiwan, Surya, Nirkumar, Phurba, Rampasad, Chetmagur, Pitamber, Krishna, Bhabraj, Gopal, Dember, Mingmar.
This made the overall size of Group One no less than 30 people.
The Story Begins
For seven years I had dreamed of making this trip and for almost two years I had spent countless hours in planning the final details. Over the past twelve months the team had put in a lot of sweat and effort while walking up and down the biggest mountains we could find in Victoria. It was hard for me to believe that all that effort was now about to bring its reward.
One of the problems in living in Melbourne is that a trip to just about any other part of the world involves a long and very tiring flight, especially when you are travelling in the proverbial "sardine class" seats. Our flight left Melbourne at 1.00 am in the morning and to our surprise and delight we discovered that the plane was only about one third full. What a treat it was to be able to stretch out across 3 seats and pretend that I was travelling in some sort of Clayton's Business Class. With the aid of three pillows and an inflatable cushion I was actually able to achieve a state approaching comfort, however due to the excitement of the occasion and regular turbulence I was not able to sleep for more than about one hour at a time. Nevertheless I did manage to accumulate a grand total of 4 or 5 hours during the flight, which is a lot more than I am usually able to achieve in long haul night flights.
Another pleasant surprise was the high standard of food served during the flight – both the "dinner" (served at around 1.30 am) and the breakfast were ample and delicious.
We arrived at Bangkok airport at about 6.00 am local time after a flight lasting about 10 hours, and settled into a five hour stopover in the vast transit area. The shops seemingly spread out as far as the eye can see (which at my age is not necessarily a long way) but all seem to offer the same selection of overpriced perfumes, spirits, watches and clothing that are on display at airports the world over.
I settled for a cappucino and tried to make myself comfortable for the long wait before our connecting flight to Kathmandu. Unfortunately this flight was fully booked but the relatively short 3 hour duration meant that it was not very onerous. Seated next to me were two British Army officers who were returning to their barracks in Pokhara. They explained that their job is to recruit Nepali soldiers to join the Ghurka regiment. They gave an interesting insight into the selection process and also into some of the issues currently affecting the country.
Arriving in Kathmandu we soon learned that the area had experienced no rain for over 5 months, leaving the ground parched and the air thick with smog. Although the flight from Bangkok had taken only three hours it seemed to take just as long to queue at the immigration counter at Kathmandu airport. Just as I was about to despair at the glacially slow pace that the line was advancing good fortune smiled on me. For some reason I was singled out by an authoritative looking Nepalese "official" and ushered right to the front of the queue. I have no idea why this happened, and since my rescuer spoke no English, I guess I never will.
Once through Immigration we entered into the mass confusion that constitutes the luggage collection area. For a time I suspected that my luggage had gone to Moscow but finally discovered it neatly piled in an adjoining room. All that remained was to clear customs – another chaotic and time consuming queuing experience, but eventually we broke free of the airport bureaucracy and emerged into the welcome lounge. It was a relief to find a smiling Nepali with a large sign proclaiming "World Expeditions Ghostriders Trek" held prominently overhead. Our adventure was about to begin.
Arrival in Kathmandu
We were directed through the crowds to a waiting minibus and were soon fighting our way through the complete anarchy that constitutes the city's traffic system. A "20 minute drive" took closer to 45 minutes but eventually deposited us safely at the Radisson Hotel where we were warmly welcomed by Subal Basnet who was to be our leader for the remainder of our time in Nepal.
I suspected that many of the group were still shell shocked by the sights, sounds and smells that had confronted their senses in the drive from the airport. Although I had tried to warn everyone about the culture shock they would experience, I don't think that anything can really prepare people for their first experience of Kathmandu. It is just one of those things that has to be "felt rather than telt".
Kevin and I were finally in our comfortable room on the 7 th floor at 3.30 pm and Kevin wasted no time in doing his best to add to the air pollution of this already suffering city.
Later that afternoon Subal conducted a short briefing session on the procedures we would be following for the next 14 days. In the evening we were all so exhausted that it was hard to give serious thought to eating but we were promised that the effort would be worthwhile. A 20 minute walk through dark streets found us at the entrance to a large Nepali Restaurant where we were entertained by several groups of ethnic dancers before being offered our "set menu" dinner.
The experience was worthwhile as promised, although a quick mental currency conversion gave the distinct impression that we were being professionally fleeced. By the time the dinner was over I was feeling overwhelmed by tiredness and only just managed to stagger back to the hotel and collapse into a delicious sleep.
Eight hours later I felt much more human again and enthusiastically attacked the impressive buffet breakfast that the Radisson Hotel is well known for. With its vast array of western and Nepali food it is the perfect way to stock up on calories for the energetic day of Kathmandu sightseeing that lay ahead of us.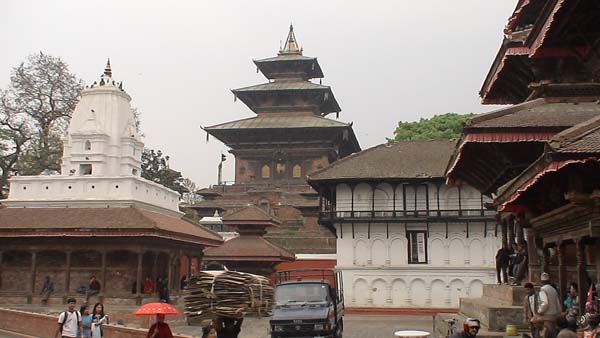 Kathmandu - street scene near Durbar Square
The day had been designated as our chance to see the major sights of this amazing city. Our guide was a thin man in an ivory coloured suit and with very laboured pronunciation. He started by explaining that we would be travelling to four key locations during the course of the day. The first of these was the famous Boudhanath Stupa, famous for its huge hemispherical dome topped by the all seeing eyes that are so often identified with Nepal. The stupa is continually encircled by throngs of devotees walking around in a clockwise direction and rotating the hundreds of prayer wheels that surround the structure. The entire area is filled with the sounds of electronically amplified mantras emanating from numerous local stalls. The precinct is also the home to countless traders and rather pushy hawkers trying to sell their own rather tinny wares.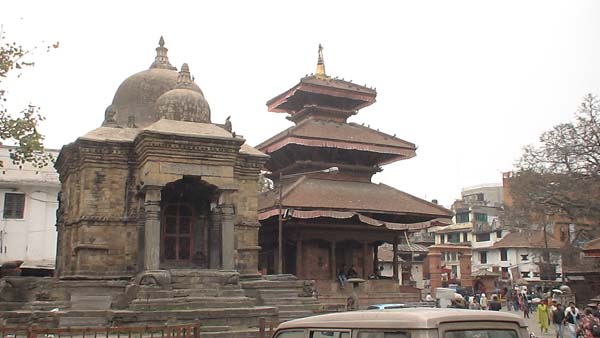 Ancient Temples near Durbar Square
This theme was continued and brought to a whole new level by the surge of eager sellers that surrounded us when we arrived at Pashupatinath, the most sacred Hindu Temple in the world. Apparently every devout Hindu in the world has a dream of one day making a pilgrimage to this very spot. On most days this temple is witness to countless outdoor public cremations, but on this day the cremation pyres were not being used. The lack of activity in the cremation area was more than compensated for by the zeal of the pestering traders who followed our every move and insisted that we buy their goods.
The temple is also home to numerous followers of Shiva. These people are invariably wearing ankle length deadlocks and have their faces brightly painted. Some carry the three pointed trident that symbolizes their chosen god. These devotees like their pictures to be taken, but if you point your camera in their direction, be prepared to part with a handful of rupees for the privilege.
It was somewhat of a relief to regain the sanctuary of our bus and get some respite from the traders who, by this time, seemed to have worked themselves up into something of a fever pitch. We found numerous goods being poked in through every open window, accompanied by exhortations to purchase. I have to admit that I was not sorry when the bus moved on to the next location.
Our next stop was the historic Durbar Square, or to be more precise the Kathmandu Durbar Square. The name apparently means something like "Royal Square" and, if you spend some time in Kathmandu, you will find that there are several Durbar Squares scattered throughout the greater area of the city. This particular Durbar Square was the capital of the original city of Kathmandu where the legend states that the first tower was built from the timber from a single tree. In fact that is how Kathmandu got its name.
Before we could go exploring we needed to refuel our bodies with a lunch stop at the rooftop terrace of a restaurant. The location gave us a great view out over the ancient buildings in this area. Although it was a very pleasant location I would only give the food and service 2 stars out of 5.
Once lunch was over we wandered into the fascinating assortment of ancient buildings that makes up this famous spot. This area is also the home to countless other traders who continued the energetic efforts of their colleagues we had previously met at Pashupatinath. It is also the location for many Bollywood movie productions, in which case the central courtyards are filled with dozens of beautiful, scarf waving Indian dancing girls. Alas, on the day we were there not a single dancing girl was in sight.
The final stop of the day was the Swayambhunath Stupa, situated high on a hill overlooking the entire Kathmandu Valley. Due to the huge number of monkeys that have taken over the stupa it is also known by the common name of "monkey temple". During the afternoon we had noticed that the sky had been progressively darkening with an impending thunderstorm forming over the city.
Since the region had not experienced rain for the previous 5 months, the city was not only desperate for water but the air had become so smog laden that visibility was reduced to just a couple of kilometres. I knew that the best way to clear the air was for a cracking thunderstorm and heavy rain to wash the smog away. We therefore watched the growing storm with excitement at the prospect of clearer skies over the next few days.
The stupa is reached by a steep staircase which leads up to a huge central white dome. As you draw closer to the summit you can feel that the large eyes at the top of the stupa are looking out over the entire city. Surrounding the central dome is a collection of large bells, altars, prayer wheels, incense burners and the like. Our group spent about 30 minutes wandering around and observing the impressive pyrotechnic displays of lightning that were flashing over the city. In the process we had given no thought to the fact that we were perched on the highest point for miles around and standing right next to the huge metal tower that sat on top of the stupa. In hindsight this was not a good idea !
Suddenly the sky was rent by a bright flash as a huge lightning bolt struck the tower only a few metres away from where we were standing. Sparks and arcs flew in all directions as a deafening crack of thunder caused us all to jump in fright. I had thoughts of the possible headlines that could have appeared on the next day's papers – "14 Australian tourists vaporized in Lightning Strike in Nepal". Fortunately, apart from the fright and possible collateral damage to our underwear, we all emerged unscathed.
The short drive back to the hotel took about an hour due to the unbelievably bad traffic. I cannot understand how our driver managed to navigate our large bus through such chaotic and overcrowded streets without so much as a single scratch to the paintwork. This job must be about as good as being a chauffeur to a US diplomat in Iraq.
When we arrived back at the Radisson Hotel I was pleased to find that the 13 members of Group 2 had safely arrived from Melbourne and were already having their initial briefing session with their allotted leader. Our plan was to combine both groups and go out together to a Western/Nepali restaurant with an a la carte menu. Most felt that we had been overcharged the previous night and were keen to be able to choose their own dinner rather than be a victim of another "set menu".
Unfortunately it did not take long to discover that somehow this plan had become hijacked when we found ourselves sitting at another Nepali restaurant which looked suspiciously similar to the one we had been to the previous night. To make matters worse the SET MENU we were presented with was identical to the last one, and at the same high cost. When Kevin and I tried to buck the pressure and order our own dinner we were obviously NOT popular and at the end of the evening the small bowl of liquid with about three small pieces of chicken floating in it, ended up costing 1000 rupee (about $20). We could not help but feel that the word ambushed would have been an accurate description of the evening's program. At least the floor show was interesting but I decided that in future we would make all our own decisions concerning the choice of dining establishments.
We all retired to bed anticipating the morning flight to Pokhara and hoping that we would get our first glimpse of the mountains we had come so far to see.
On to Pokhara
The Nepalese weekend consists of only a single day – Saturday. As we left the Radisson for the airport it was a stark contrast to the traffic conditions we had experienced on the previous two days. The trip was completed on almost empty streets and with a minimum of tooting and jostling for space. It would appear the locals like to sleep in on their only day off.
On arrival at the airport we were issued our boarding passes for Yeti Airlines – according to their slogan "like no other airline". At least the security was tight – at the entrance we were asked if we had any knives or guns and, when we replied in the negative, we were ushered through to the departure lounge. That saved a lot of wasted time, although I just hoped everyone was as honest as us.
After the rain of the previous day the air was a little clearer but still quite hazy. Since we were told that air traffic control needed a visibility of 5 km in order to approve take off, it looked hopeful that our flight would depart on time. In fact we were airborne on the smallish prop jet only about 15 minutes behind schedule.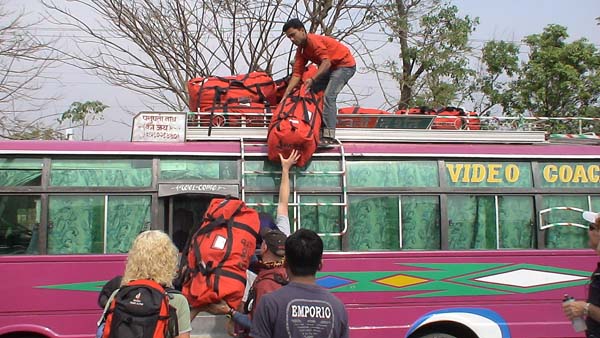 Loading the Bus - Pokhara Airport
The actual flight to Pokhara only takes about 20 minutes. This is a far cry from the 10 hours or so the same trip takes by bus. Since I had made that terrible road trip on four previous occasions I had no intention of ever doing it again. It was nice to arrive in Pokhara with most of my nerves still intact although the rather fast landing on the short runway meant that the plane only managed to stop a few metres short of the grass.
A delightful lunch was shared at the World Expeditions permanent campsite. We could not help but notice how pleasant the surroundings were when compared to the dust and squalor of Kathmandu. In this sub tropical climate the people take much more interest in maintaining colourful and well cared for gardens. Many homes had highly productive vegetable gardens surrounded by stone walls and all around we saw an abundance of flowering plants. This greatly helped to brighten the ambience of what otherwise could have been a drab town.
After lunch we were herded onto a small bus for the 90 minute trip to the start of our trek. The ornate, mirrored ceiling of the bus made it look more like something from the Arabian Nights rather than a typical commuter vehicle. We were soon climbing steadily along a narrow road with the precipitous drop on the left hand side. This resulted in some of our more vertiginous participants leaning enthusiastically in the opposite direction. Somewhat sobering was the sight of a serious head on smash between two buses that almost completely blocked the road at one point.
At about 2.30 pm we were finally underway on the trek itself on the first, relatively short, leg to the interestingly named "Australia Camp". We had not been underway for more than about 5 minutes before the skies opened with a steady drizzle of rain that quickly converted the trail to a slippery and muddy obstacle course. Since it had not rained for so long it was nice to know that, once again, the Ghostriders had broken a drought. The rain persisted all the way to the camp where we arrived cold and saturated. I discovered that the contents of my back pack were also thoroughly saturated showing that I really should have invested in a plastic waterproof cover.
Kevin and I huddled in the shelter of our tent where he immediately proceeded to do his best to render the interior air un breathable. I am sure that many of those standing around outside would have thought it was thunder echoing up the valley, but I knew better.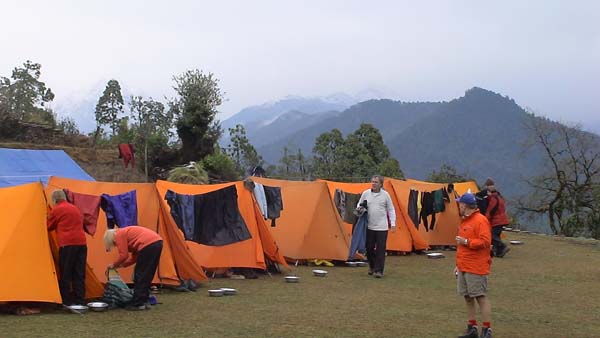 First campsite - Australian Camp
Although the rain was something of an inconvenience I was hopeful that it might help to clear the hazy air. This wish was borne out later that afternoon when the clouds lifted to reveal our first breathtaking views of the Annapurna Massif and the beautiful Fishtail Mountain. A short walk to a nearby exposed bluff rewarded everyone with one of the most memorable views you could ever wish for. It was one of those incredible moments that you just wish could last forever. Far in the distance we could see Pokhara and the impressive Phewa Tal (lake) that had marked the start of our trip earlier that day. All around were towering mountains and, closer to us, endless rice terraces that clung precariously to the steep hillsides, making use of every square metre of arable land.
After dark a group of us returned to this spot to see the distant lights of Pokhara and the much smaller lights from the dozens of small villages scattered like stars in the night sky. Overhead the night sky revealed the Northern constellations that were quite unfamiliar to us. On the opposite side, draped in a cloak of darkness, were the mighty Annapurnas that would be the goal of the next few day's trekking. There were no twinkling lights in that direction, just the dark silhouettes of the immense mountains.
My first night under canvas was passed in a dream filled sleep full of abstract images from the previous 24 hours. It did give me my first chance to test out the performance of the Exped Downmats that many of our participants had chosen to take on the trek. I would have to say that the comfort and warmth provided, was far better than my previous experiences with Thermarest type mattresses.
The Climb to Landruk
I awoke at 6.00 am to find the surroundings were already well illuminated by the rising sun. In contrast to the past two days, the skies were clear and the mountains were visible across the entire Northern panorama. Soon the cameras were out and clicking as awakening trekkers relished the spectacle.
Breakfast under a clear blue sky with the Annapurnas for a backdrop was an experience I don't think anyone could ever forget. We feasted on porridge, muesli, hot chocolate, marmalade and peanut butter. By 8.30 am it was time to get going, we hoisted our backpacks and headed off in perfect conditions. The walk started out easy but soon everyone was working hard as we scrambled up and down over huge stone steps. The beautiful forest country was such a pure delight after the experiences of Kathmandu. With sweet, clear air and some of the best scenery on planet earth all around, everyone was in high spirits and soaking up the moment.
Along the way we passed through a succession of small villages with many tea houses and dining halls (for some reason often spelt "Dinning Hall"), advertising a vast variety of foods and souvenirs. With the sun shining brightly it did not take long for us to feel hot and thirsty. Later in the day a thunderstorm threatened but did not eventuate, thus allowing us to reach the next campsite at Landruk dry and warm. Across the vast Modi Khola Gorge we could clearly see Gandruk perched high on the other side of the gorge. Although it was only a couple of kilometres away in the straight line we could clearly see that it was going to be seriously hard work descending to the valley floor then climbing all the way back up the opposite side to the top of the imposing ridge where Gandruk was precariously perched, but that would be a challenge we would all face on the following day.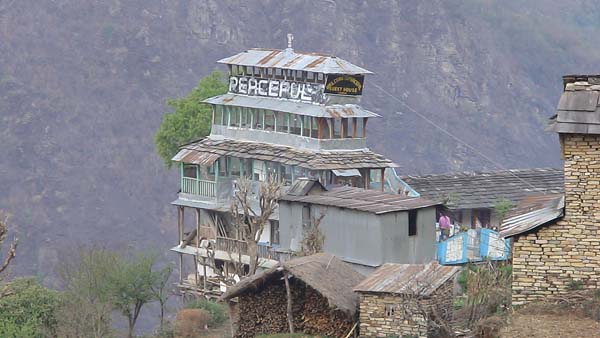 If you want a real adventure, try staying in this 5 storey tea house in Landruk
In the late afternoon I unearthed a rubber ball from my backpack and had some fun playing with some of the younger porters and kitchen staff. At least it was fun until I overbalanced trying to take a fast catch and fell about 3 metres down to the next terrace. Fortunately the ground had been recently ploughed, affording me a relatively soft landing. Although I had no broken bones, the sharp pain in my left ankle gave me a clear indication that I had incurred some damage. I hobbled back up the slope, accompanied by the cheerful laughter of the porters who had witnessed my debacle. My mind was occupied with concerns at how I was now going to cope with the demands of the next few days.
Dinner was once again a delicious assortment of vegetables and other items, expertly prepared by our kitchen staff. Afterwards a group of us stood spellbound under the clear night sky and watched the distant lights blinking in the huts up and down the gorge. It was truly a fairyland sight and it was hard to distinguish where the twinkling lights on the mountains blended into the starry firmament overhead.
By 8.00pm I was ready for bed and crawled awkwardly into my sleeping bag, trying not to put any pressure on my sore ankle. I soon settled into my second night's sleep under canvas.
Crossing the Modi Khola
The next morning broke clear and cool with an unbroken view of Annapurna South dominating the head of the gorge. We enjoyed another magnificent open air breakfast, after which Subal expertly bandaged my ankle for the testing time it was about to endure.
We had not travelled very far before I painfully realised that going down is much harder than going uphill. At least I had the help of the two trekking poles to stabilize and support my weight on the steep descending steps. On the uneven steps each downward footstep was accompanied by a stab of pain, meaning that I could only laboriously make my way down to the river.
When I arrived at the small bridge that marks the bottom of the descent the rest of the group were gathered in the sunshine, happily chatting and taking photos. I was glad that the downhill section was over and, although I never thought I would say so, the long uphill section was far more enjoyable. The angle of each footfall was such that the uphill steps were actually free of pain.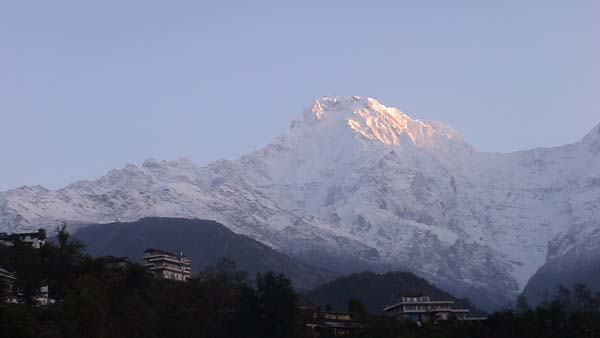 Sunrise on Annapurna
The climb up to Gandruk was steep and continuous and consists of an almost endless staircase of large stone steps, zigzagging their way up the mountain. I was pleased that we were able to complete the climb in about 2 hours, arriving at the hilltop village near midday. We had chosen to spend the night in a tea house rather than under canvas and this gave us an opportunity to sort and dry our gear that had got soaked yesterday.
From the garden of our tea house we could look down across the gorge and clearly see the campsite that we had spent the previous evening in. When the crew from Group 2 arrived we could see them erecting the bright orange tents and we looked forward to exchanging an 8 pm "torchlight flash" across the Modi Khola Gorge.
By mid afternoon the regular thunderstorm arrived, filling the gorge with a succession of impressive flashes followed by rolling thunder that echoed and reverberated throughout the vast space. It was an incredible feeling to be able to savour the dramatic display of pyrotechnics from the comparative comfort and safety of our lodge. When the rain continued for the rest of the day we could not help but feel some sympathy for the sodden members of group 2 who be spending the night under soggy canvas, while we were high and dry with real mattresses to stretch out on.
Although it is not the normal policy of World Expeditions to stay in tea houses, I had to admit that I was glad of this chosen variation to our trek. After the cramped confines of the tent it was delightful to be able to spread out and catch up with some laundry. We even had an electric light in our room, although it was only powered for a couple of hours each day. The rooms themselves were clean and comfortable, although rather Spartan.
We had previously arranged to coordinate a torch light flash across the gorge to our sodden teammates at the Landruk campsite. At the appointed hour of 8 pm we did see a flashing signal through the pouring rain but I suspected the hidden meaning of this signal was a plea to "please rescue us". We quickly returned to the dry confines of the dining hall and resumed our card games.
It was a relaxing feeling to be able to drift off to sleep with the hypnotic sound of rain drumming on the roof. I awoke at 4.00 am to a much louder noise but this one was coming from inside the room. For a man who insists that he never snores Kev was making a valiant imitation, complete with vibrato and an accompanying counterpoint chorus. I tried to bury myself under the sleeping bag in a vain attempt to stifle the noise.
On to Tadapani
The alarm went off at 6.00 am and I staggered out into the daylight to discover another perfectly clear sky and all the mountains in full view. This encouraged us to eagerly anticipate another glorious day's trekking ahead. We were also glad that the members of Group 2 would have a chance to recover from last night's drenching.
After breakfast it was back onto the trail for the walk to Tadapani. The first three hours were quite strenuous, with an altitude gain of several hundred metres. Lunch was held at a comfortable local restaurant affording us more fantastic views of Annapurna South. What a delight it was to sit in the warm sunshine, surrounded on all sides by such an unbelievably beautiful spectacle.
Narm was the friendly proprietor of the inn and she happily spent some time teaching me a few more words of Nepali. With a cheeky grin she told us that the remaining section to Tadapani was a "little uphill and then Nepali flat".
The next hour was spent in a state of wonder as we wondered through a magical fairyland forest. Overhead was an almost continuous canopy of giant rhododendron trees, their huge trunks covered with a thick coat of moss and lichens. With troops of chattering monkeys swinging through the trees and a carpet of fallen rhododendron petals under our feet, it would be hard to imagine a more beautiful place to be. I could hear exclamations of wonder from the other trekkers as each turn in the path revealed yet another spellbinding scene.
Tadapani, our destination for the evening, is perched at an altitude of 2700 metres, and is home to a substantial collection of tea houses and Tibetan traders who set up their businesses during the trekking season and then retreat to warmer locations during the cold winter months.
Our Hardest Challenge Yet
After a comfortable night spent under canvas, we again set out at about 8.00 am, after yet another delightful outdoor breakfast. At this close proximity the beautiful peaks of the Annapurna Massif almost appear luminous with their brilliant white coats of freshly fallen snow.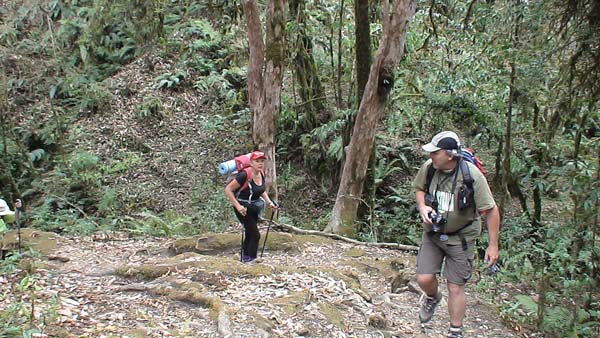 Walking through the Rhododendron Forest near Tadapani
We set off in high spirits through another giant rhododendron forest. The pinkish coloured trunks were easily up to a metre in diameter and twisted into a tangle of distorted shapes. This added yet another dimension to the mystery of this area. Such is the degree of diversity in the plants growing under the canopy that I felt like I was lost in a prehistoric world. Somehow I would not have been surprised to see a giant pterodactyl flying overhead or a weird miniature dinosaur hiding behind a tree stump.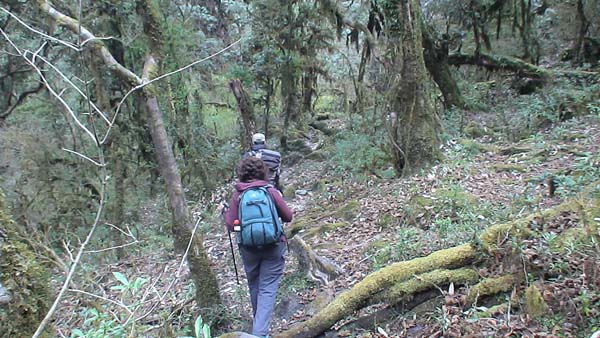 Trekking in a Magical Wilderness
It was at this point in the trek that we noticed that we had gained an extra member of our team. A large black dog had apparently taken a liking to us and followed us all the way from Tadapani. We all expected that he would soon turn back and head back to his home but, as the hours ticked by, our new friend seemed determined that we were going to be his new owners. At some time he was christened "Warby" and his presence became a welcome addition at every mealtime where he was amply fed from all of our plates.
We had been warned the previous evening that, because of the un seasonal weather, we would be trekking well above the snow line and that some sections would be a "little scary". Apparently our route was designed to follow a narrow ridge line with some serious drops on the side. Up until lunch there was no sign of these scary sections that we had been led to expect and some were starting to doubt that the day would be as difficult as we had been led to believe.
By 2.00 pm the sky started to darken and ominous rumblings of thunder once again filled the air. There really is something unique about thunder in the Himalaya – it has an incredible reverberation that you can feel all the way through your body.
As the trek progressed higher and higher the vegetation changed from the rhododendrons we had seen earlier in the day to conifers and finally, to treeless and barren slopes. We also came across numerous large sections which had been recently burnt out, apparently from lightning strikes. This was not a comforting thought with the steadily growing display of lightning that was now starting to crackle all around us. After all, when you are in the middle of an electrical storm, the very worse place to be is on the top of an exposed ridge.
It did not take long for our worst fears to materialize as the trail led us out onto an extremely narrow, snow covered ledge. The ledge was no more than 30 cm wide and had a vertigo inducing sheer drop of hundreds of metres on the right hand side. One false step on the slippery snow would send any of us to our death. To add to the degree of difficulty, the lightning bolts were getting closer and closer, each one followed immediately afterwards by a sharp thunderclap. If we managed to survive the tortuous ridge walk, the risk of being blown to oblivion by an errant lightning bolt was a very real possibility.
I never thought of myself as suffering from a fear of heights. I don't have any trouble climbing ladders, towers or tall buildings, but when I started on the narrow ledge I must admit that I had to fight off a feeling of sheer panic. I found that the only way I could make it across was to look straight ahead and make sure that every foot step was planted deliberately and to not stop moving. As long as my feet were moving it did not seem as bad, but when the line of trekkers stopped for some reason, I could not help but feel that the force of gravity was doing an irresistible job in trying to pull me over the edge.
Instead of getting safer, if anything, the trail worsened as we climbed steadily to the top of a snow covered rocky peak. With the thin air starting to make us pant for breath and the snow falling heavily all around us, I used my two trekking poles as makeshift ice axes to gain anchorage in the snow as we worked our way up the steep gradient. This was more like genuine mountaineering than trekking, and I was so grateful that I had decided to bring the trekking poles with me. They really were a huge asset in these conditions as with each step I drove one pole deep into the snow. I am not sure they would have stopped me if I did slip but they certainly were a psychological aid in very challenging conditions.
After about an hour of this exhausting ordeal I commented to Paul Barnard (who was walking about 3 metres in from of me) that "this was the most dangerous thing I have ever done in my life". The next moment there was another almighty lightning crack right over our heads. I looked up and noticed that Paul was lying on his back in the snow, having survived a close encounter of the worst kind with a lightning bolt. He was left a little bewildered and dazed but was able to get back up on his feet and continue the remainder of the way to our camp at Dobato.
It was not until after 4.30 pm that the first of our party arrived at the campsite. By that time the snow had increased in intensity to such a degree that our tents were almost lost in a whiteout. One look at the frozen tents quickly convinced everyone that we should adopt PLAN B, which was to spend the night in an adjoining mountain lodge, rather than under canvas.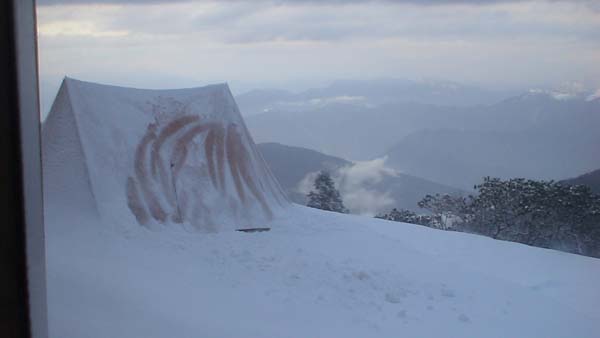 The tents at Dobato - Just as well we were inside !
The roaring fire in the pot belly stove had the dining room toasty warm and provided the perfect place for our team to thaw out and share their mutual experiences about the day we had just gone through. We were later told by our leader that this trek is normally rated as a "CLASS 2" standard, but had been converted to a "Class 4" by the appalling prevailing conditions. Apparently at this time of the year this camp is normally snow free – difficult to believe as we looked out onto the heavily falling snowstorm and the deep white blanket that carpeted everything in sight.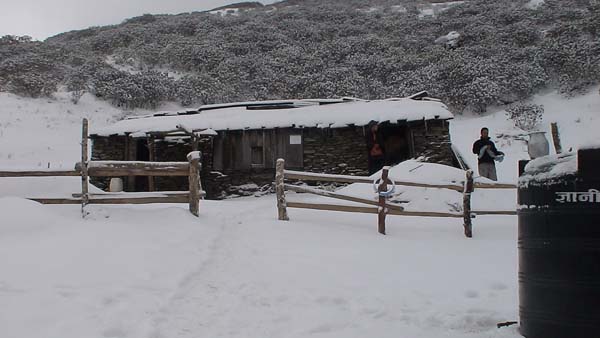 Trekking hut near Dobato
The lodge was very basic, but at $6 a night we all considered it to be a bargain. It was a fantastic feeling to be able to stretch out and dry out our clothes around the stove. Soon after the sun went down I went off to bed but found it difficult to find a comfortable position due to a very painful right shoulder that had developed sometime during the course of the day.
Onwards and Upwards to Chistibung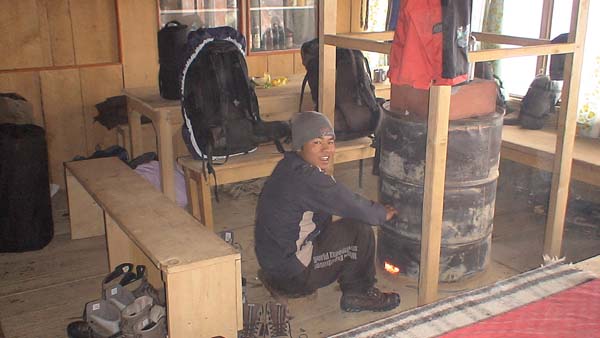 Getting warm by the fire - Dobato
We were allowed the luxury of a relative sleep in and when I awoke at 7.00 am I calculated that I had slept for 11 hours. When there is no electric light, and when you are exhausted and freezing, there is really no reason to stay up after the sun has gone down. During the night we had heard yet another storm raging outside, complete with dramatic thunder and lightning as well as howling winds. I could only hope that conditions would improve before the morning or else we would be in for a miserable day's trekking.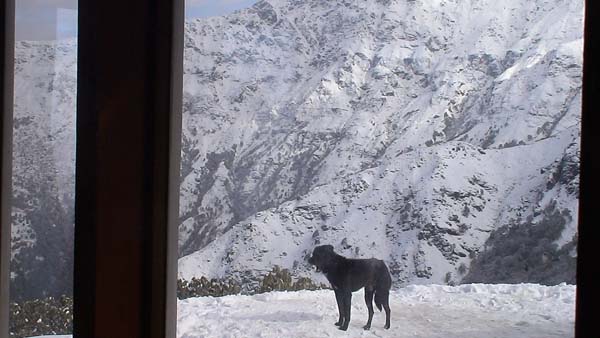 Warby Dog - stayed out in the snow all night
To our relief and surprise the next morning dawned still and clear with an expansive view across to Dhauligiri and a staggering succession of other peaks. We could see our destination camp across the other side of the vast valley. It appeared to be lower than our present location and stood out clearly because there was a nearby building with a bright blue metal roof. It did not appear to be very far away but apparent distances in the Himalaya can be very misleading. In fact it took a good 4 hours of solid trekking, at first through a snowy wonderland and later through another magnificent rhododendron forest to reach our destination. With the sun shining brightly overhead the snow soon started to melt, sending trickles of melt water flowing around our feet.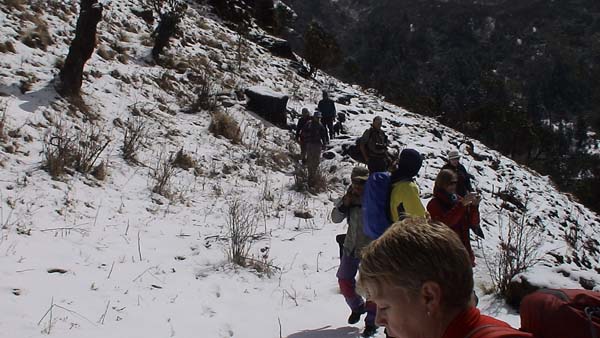 Starting out to Chistabung
We reached the campsite in early afternoon, arriving just before the customary afternoon thunderstorm. The temperature rapidly plummeted and the snow started again in earnest, quickly transforming the area into a frigid fairyland. Everyone quickly went in search of the warmest clothes they could find and we were soon decked out in an assortment of down jackets, scarves, woolen hats, gloves, thermals, etc. A couple of trekkers even decided that the fleecy sleeping bag liner could also double as an extra layer at the dining table.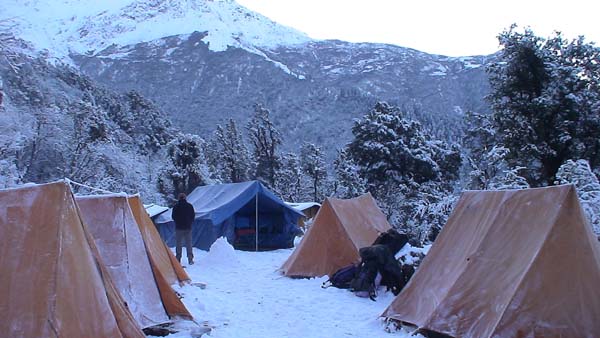 High camp at Chistabung - It was even colder than it looks !
Our tents were also suffering under the onslaught and were rapidly sagging under inches of snow. This sent the Sherpas out into the snow to regularly bang the canvas with kitchen pots and pans to dislodge the buildup before the tents collapsed under the weight. As we huddled together in the mess tent I would have to say it is probably the coldest that I have ever felt. After a short time I retreated to our tent and sought out the comparative warmth of the sleeping bag until it was time for dinner. Even so I found it hard to stop my arms and legs from shaking.
Climbing Through a Snowy Wonderland - Mike Litchfield
After yet another delicious dinner (I don't know how the kitchen staff managed to achieve it in such terrible conditions), Kev and I tried to make ourselves comfortable in the tent. In the extreme weather conditions this was well nigh impossible, especially with the regular bashing of the tents to remove the snow. In this situation the one thing you really, really don't want to do is to visit the toilet tent in the middle of the night.
I managed to hold on until about 4.00 am, but by then the situation was nearing desperation and I knew I would have to brace the arctic conditions. With my bad ankle and shoulder it was quite a struggle to get out of the sleeping bag, drag on some clothes and then put on the boots (all without waking Kev). By the time I poked my head out into the open the wind had dropped to zero and thousands of northern stars were shining brightly in the firmament overhead. All the trees were laced with an icing of white snow leaving an absolutely unforgettable impression. Although it was probably one of the prettiest sights I have ever seen I could not wait to regain the sanctuary the sleeping bag. Unfortunately, when I tried to zip it back up again, the entire zip came undone from the foot end ! The exertion also left me panting for some time. I huddled in as best I could and waited for sunrise.
When the sky finally lightened it revealed possibly the clearest day of the trek so far. There was not a single cloud in sight and, once the sunlight reached the campsite, the temperature started to rise rapidly. Layers of clothing were just as quickly discarded.
"An easy 3 hour walk to Kopra Ridge" the trip notes said, although we knew that this was bound to be as inaccurate as most of the other descriptions. After all, with 800 metres of vertical altitude to be gained, we knew that it was going to involve some serious effort. The entire climb was undertaken in thick, crunchy, fresh snow and, once again, I was glad that I had the assistance of the trekking poles to help with traction and stability. Soon the thinning air had everyone puffing and panting and stripping down to shorts and T shirts.
Our faithful friend Warby, who had been a vital part of our trip since Tadapani, again plodded happily alongside and pretended that he knew the way. By now he was everyone's favourite canine and his intelligent eyes and gentle demeanor meant that we would be very sorry to part company in a few day's time.
We struggled up a succession of ridges and, at one stage, thought we caught a glimpse of Group 2 making their way to Chistibung. As we drew closer and closer to Kopra Ridge the trail became narrower and more exposed, affording us an incredible view down to the valley far below us. At this stage it would be easy to pretend that we were summiting a mighty mountain. Take a few steps, breathe, then a few more steps. Each step had to be carefully chosen in the snow or else we would be sent cascading down the steep slopes on our left hand side.
As we walked we dislodged chunks of snow which were sent rolling down the slope. These quickly grew in size, just like they do in the cartoons. Some actually became quite large and looked like giant Swiss rolls as they disappeared far below us.
The final 30 minutes of the walk was along a narrow slow ledge, although after our triumph over the scary approach to Dobato 2 days earlier, everyone took this challenge in their stride. By now we felt we were ready to take on K2.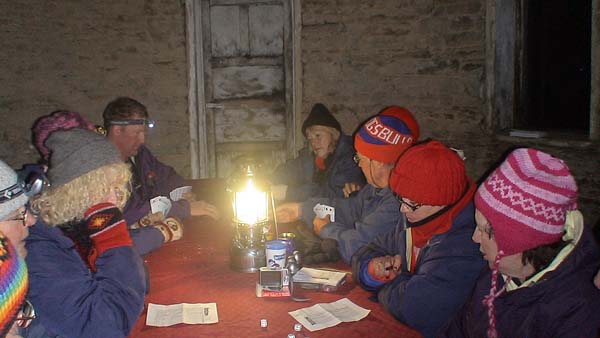 Gathered in the Dining Hall at Kopra Ridge
By early afternoon we reached the summit of Kopra Ridge and were extremely glad to find that the trekking hut was open. This meant that we would not have to camp in the snow. As its name implies, Kopra Ridge is a narrow ridge line that crouches in the shadows of Dhauligiri and the Annapurnas. It certainly feels like it is a long way from anywhere and apparently rewards the climber with sensational views, although because we were surrounded by low lying cloud we could see almost nothing.
The view outside at Kopra Ridge
The trekking hut had only been built in the last twelve months. It was rather primitive, but at least it was dry. It consisted of a circular dining room and a separate bunk room, divided into a number of smaller bedrooms. As there was no form of heating the temperature was well below freezing, both inside and out. All the surrounds were blanketed by snow and the buildings themselves were almost hidden by the snow that had slid from the roof and piled high all around the outsides.
Since this was our primary objective for the trek, as you can imagine, everyone was feeling absolutely euphoric. It really was an achievement that we could all be proud of, after all very few people ever get the opportunity to partake in such an amazing shared experience. In a very real way it was a team effort and a team accomplishment that made all those hard training walks worthwhile. Although we would never get to climb to the summit of K2 or Everest, I guessed that in a small way we could understand a little what it must feel like. There really is a unique feeling when a group of people dream and plan a challenge, then actually follow it through to completion. I was so proud of every one of them and could not have imagined a better group of people to have shared this trip with.
As night fell we gathered together in the dining room, cursing anyone with the temerity to leave the door open. This would have to be the most remote place I have ever stayed in and the biting cold would make an Emerald winter seem positively tropical by comparison.
I retired to bed and swaddled myself between the Exped Downmat underneath and the down sleeping bag and a heavy doona on top. After an hour or so I finally stopped shaking and drifted off into another dream filled sleep. Not surprisingly, one of my longest and most colourful dreams was actually situated in Antarctica (I am not joking).
Considering the impossibly bleak conditions outside I am sure that everyone who had to make a nocturnal visit to the conveniences were glad that they were inside and not in the raging blizzard outside.
The Long Walk Down
At 6.00 am it was time to get up and start packing for the long walk back down to civilization. The spectacular view we were hoping for materialized into a white out with a visibility of only a few yards. It had obviously snowed a lot during the night and I was not looking forward to retracing our steps across the narrow snow ledges.
When the time came to start out, one of the Sherpas went ahead with an ice axe to cut some steps through the most dangerous sections. I found that I coped best by being at the front of the column and being able to set my own pace. I pitied whoever was following behind "Mega Mike" and therefore suffering the rampant damage that his size 16 boots did to the fragile snow steps.
A couple of days earlier the ordeal of shuffling along such a narrow exposed ledge with a sheer drop magnetically inducing me to fly into the void was enough to terrify us, but that time now seemed like an eternity ago. We were now seasoned snow walkers and coping much better with this challenge.
After 90 minutes or so we were out of most of the snow and settling into a grueling downhill climb, testing all our ankles and knees. We all knew that Group 2 could not be far below us and we were excited when we saw the first of their lead porters carrying their hugs loads up the hill with apparent ease. The was the first real sign of Group 2 we had seen since the torchlight flash between Landruk and Gandruk which now seemed so long ago.
Over the next hour we tried a few high altitude "Cooeeees" and were finally rewarded with the unmistakable replies that indicated that a reunion was close at hand. Once the two groups finally came into contact there was a feeling of genuine relief and camaraderie as experiences were shared and compared. Most of group 2 were still in good condition although Anne had a painful knee from an incident a couple of days earlier and was finding the going hard. In some small degree we could relate to that famous meeting between Stanley and Livingstone.
Reluctantly we parted company and the 2 groups made their separate ways. We all wished that Group 2 well and hoped that they would get better visibility from Kopra Ridge than we had experienced.
Lunch was held back at our previous campsite at Chistabung which only 48 hours previously had been such a snowy wilderness. We were amazed to find all the snow now gone and the area completely transformed. It really was hard to believe it was the same place.
From Chistibung down to Swanthe the trail is an unrelenting downhill grind, providing ample opportunities to slip and fall. At one such place Monika fell heavily, breaking her trekking pole and badly twisting her ankle. Since we still had a long, long way to go, no one envied her the task that was before her.
The path itself took us through an ever changing variety of giant rhododendron forests, steep slippery descents and river crossings. At one stage we witnessed another large troop of monkeys swinging through the trees over our heads. I can't imagine that any of us would have rather been in any other place at that wonderful time.
If we stopped for a breather it was possible to look back up to the snow covered Kopra Ridge, now towering high over our heads. Now 5,000 feet higher than us it was hard to believe that was where we had been standing just a few hours previously.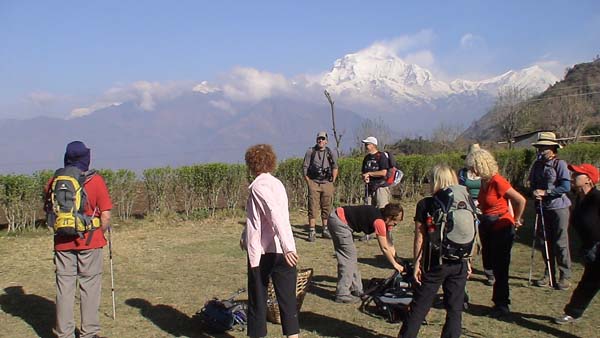 Relaxing in the sunshine at Swanthe
It had been a very physical day and when we finally ended our walk at Swanthe, I am sure that all were relieved to be able to sit down and get their boots off. We had descended all the way down from 3800 to 2200 metres and the climate here was a world away from the arctic conditions we had braved at the start of the day. When I took my boots off I found that the toe nail on my right big toe had gone completely black and the sock was blood soaked – a souvenir of the hard descent and a warning that my laces had not been tied tightly enough.
The small dining hall near our campsite at Swanthe even had electricity – or at least it did for a few minutes until it flickered and went out. And as for Monika ? She amazed everyone by hobbling into camp a mere 10 minutes behind the rest of us. It had been a very brave performance in anybody's language.
That night was to be our second last under canvas and for some reason I just could not get comfortable, spending a lot of time twisting and turning, trying to find any position that would give my aching shoulder some relief. The alarm finally sounded at 6.00 am indicating that it was time to wriggle out of the sleeping bag and attempt to restore some feeling to my arms and legs.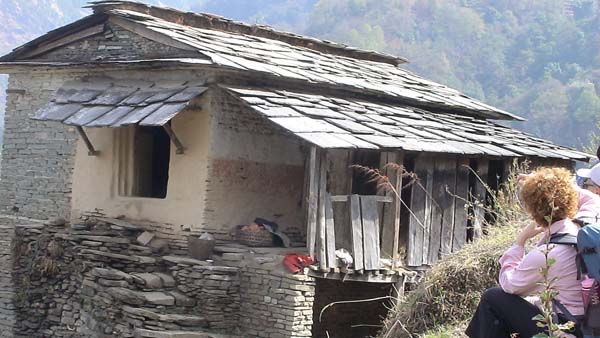 Viv admires a village house near Swanthe
At first glance the skies indicated that we were going to be blessed with another clear morning. My thoughts went to those of Group 2 who would be still camped at Kopra Ridge. Since we could see clearly up to ridge, they were obviously experiencing better conditions than we had when we were there. They would be getting the views that were denied us and we would be looking forward to hearing their stories and seeing their pictures.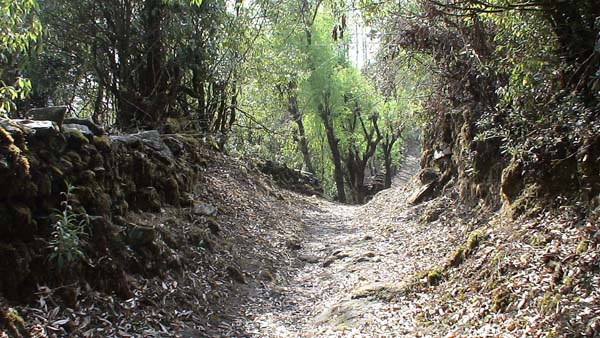 Very pretty section of the walk on the way to Ghorepani
The walk to Ghorepani first involves a 30 minute descent down to the river, followed by a continuous and relatively strenuous climb of about 4 hours . The group enjoyed the warm sunshine and the picturesque surroundings, but I think everyone was also a little sad that our trek was starting to near completion. We passed through a succession of lovely huts and some of the prettiest villages we had seen thus far. In particular the town of Chitre was home to an idyllic network of moss covered stone fences, bubbling streams, wandering chickens and neat houses.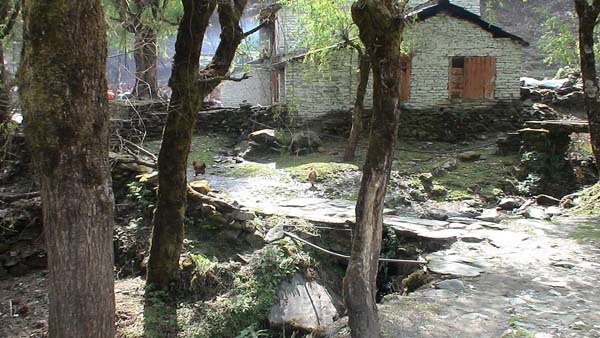 This village was superbly beautiful and clean
The final 30 minutes up to Ghorepani had most of us puffing heavily as we worked our way up a steep stone staircase. Before we finished we had worked our way back up to 2850 metres in elevation. I had previous visited Ghorepani 12 years ago and , although some changes were evident, it still reminded me of a frontier town. Obviously building regulations are unheard of in this neck of the mountains as we saw an incredible assortment of building materials and methods in use. One large tea house was made entirely of rusty sheet iron - even the large chimney!
Two Nights In Ghorepani
Our home for the next two nights was the Poon Hill Guest House, a comfortable and clean 2 story building with a lovely sunny dining room and a number of clean bedrooms. The sign at the door admonished everyone to leave their shoes outside. When we entered our room it was immaculate, however Kevin soon remedied this by spilling a kilogram of sugar all over his bed and the carpeted floor. He then proceeded to spread the damage even further when he took to it with a straw broom.
The Poon Hill Guest House also provided the opportunity for our first "hot showers" in many days. Since we knew that the supply of solar heated hot water was going to be very limited, we made it clear that everyone was to keep the length of their showers to a minimum. We even conducted a ballot for the order of places, such is the importance of a shower when you have been deprived for so long. A couple of hours later we all felt so much better.
Our plan for the next 24 hours was to complete an early morning climb to Poon Hill, rising at 4.30 am to reach the summit before sunrise. This plan was very weather dependent as there would be no point in completing the strenuous 400 m vertical climb if the visibility was poor.
I discovered the bed was wonderful but the pillow might as well been made of cast iron. To help serenade me to sleep a cacophony of barking started enthusiastically just after dark and then continued for most of the night. The stamina of those Ghorepanian dogs was absolutely amazing, although we later discovered that they sleep right through the day to make up for their nocturnal excertions.
At 4.30 am we awoke to a clear, starry night and were soon ascending by head torch up the steep stone staircase to the Poon Hill Lookout. I could not believe the huge number of puffing Japanese tourists that had appeared from nowhere, all vying for the honour of having the world's biggest camera. Although one, rather ambitious guide book suggested that the walk could be done in twenty minutes I would recommend that, even for someone with a good level of fitness, 45 to 60 minutes would be a more realistic figure. If you don't allow enough time you would be unlikely to reach the summit in time to watch the sunrise.
The freezing early morning chill at the 3200 metre summit was offset by our energetic efforts in completing the climb. With the sky lightening around us we could just see the dark silhouettes of the mountains appearing and everyone could anticipate that the next 60 minutes would prove to be an experience to be remembered for a lifetime.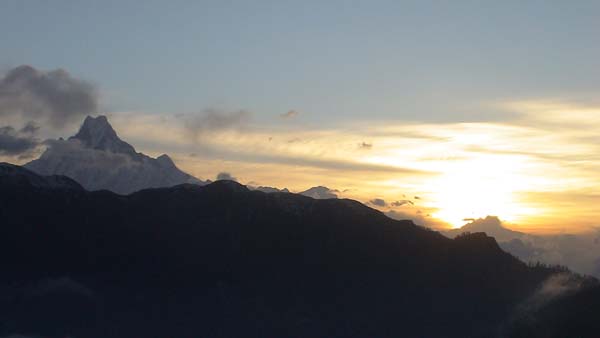 The sun rises over the Himalaya - seen from Poon Hill with Machhapuchhre to the left
Over the next half hour the glow in the east steadily increased to the point where the entire Annupurna Massif became visible in all its splendor. Cameras started clicking in a photographic frenzy as, what must surely be one of the most amazing sights on Earth, took shape before our eyes. Huge lenses were propped on tripods as their owners eagerly scanned them back and forth, not wishing to miss any opportunity for "that" photo.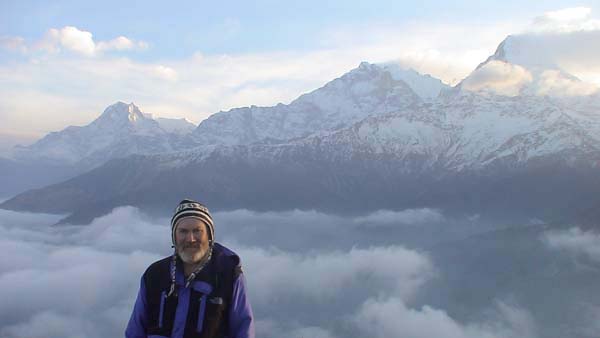 Looking back to Kopra Ridge where we had been two days previously
From this vantage point we could clearly see Kopra Ridge nestled ever so close to the giant peaks and we could appreciate just what an achievement it had been to walk all the way back from that ridge to Ghorepani. The peaks appeared to be floating on the bed of clouds that filled the valley below us like a vast ethereal sea. Feeling that this would be probably the last time I would be privileged to witness this majestic spectacle I tried to soak in as much of the experience as I could before heading back to the Guest House and the breakfast that awaited us.
Twelve months earlier I had stood at the summit of Victoria Peak in Hong Kong and gazed down on some of the greatest wonders that men's wealth and engineering can create. When I compared the immense scale of the Himalaya to the pretentious skyscrapers of Hong Kong it was easy to see that man is not even in the same league.
After breakfast we spent a few hours relaxing and chatting in the dining hall. After the rigors of the previous 8 days it was a great feeling to be able to while away some time in simple leisure without feeling guilty. We had been expecting the porters from Group 2 to be reaching Ghorepani some time before noon but, when 1 pm came round with still no sign of them, we had to conclude that something had happened to change their plans. We knew that we would now have to wait till Pokhara for our next chance to catch up with them.
Another disappointment for us was the fact that the big storms we had experienced earlier in the trek had destroyed the electrical supply to Ghorepani. No one knew when it would be restored, and in the meantime there was neither power nor Internet and hence no way to communicate with our families back in Australia.
Warby dog, who had been our faithful companion ever since Tadapani, also chose Ghorepani to make his final appearance. At the summit of Poon Hill we found him shaking and huddling in the pre dawn chill under the lookout tower. As the sun rose, he stirred into life but his dedication to our group seemed to have waned. Although we patted and encouraged him, it was to no avail as we watched him start to follow other strangers and it became sadly apparent that his time with us had reached a logical conclusion. Perhaps Warby is just a free spirit that needs to spend all his life on a series of never ending adventures with an ever changing selection of trekking groups.
Party time at Hille
After the two nights of relative comfort in the Poon Hill Guesthouse we began the final long descent along the "tea house trail". It was impossible to walk for even a few minutes without encountering large groups of fellow trekkers making their own pilgrimage up to Ghorepani. Especially obvious were the Japanese trekkers, many wearing white gloves, sandshoes and face masks. I could not help but wonder if they had any real knowledge of the area and what the spirit of true trekking is all about. We also encountered a large assortment of other nationalities, including French, German, British and a small number from the USA.
At lunch we settled into a trail-side dining area alongside a large group of middle aged French trekkers. We decided it might be fun to start an international sing-song with a selection of songs from both cultures, although I have to admit that I thought their singing was a little more tuneful than ours.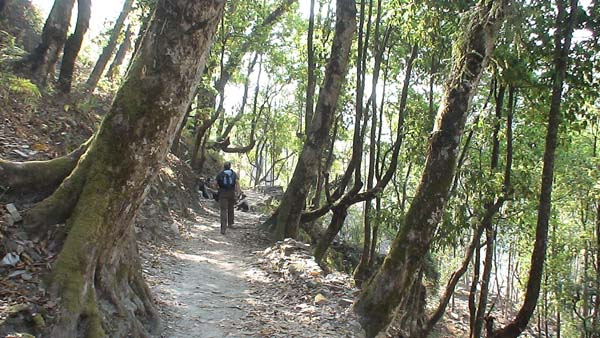 Easy walking down to Hille
During the walk I met a couple of Indian porters who were taking a short rest at the side of the trail. I could not help but comment on the mammoth size of the loads they were carrying and was surprised to find that they actually spoke quite good English. They told me that they were carrying 70 kg each and on occasions they have been required to carry up to 80 kg. Not only was the load unbelievably heavy but the nature of the items they were carrying were completely inappropriate for the conditions. It seemed to me that that many Japanese trekkers had packed enormous, hard shelled airport luggage which would be the most uncomfortable and unsuitable for porters to carry. And how anybody would need 70 kg of luggage for a 3 day trek is completely beyond me. I left feeling quite angry that some ignorant people could expect fellow human beings to carry such a load.
The descent from Ghorepani to Hille involved a drop of about 1400 metres and, by the time we reached our final campsite for the trek, many were starting to complain of jarred knees and sore ankles. Our campsite was a small, flat area of vacant land underneath a busy trailside restaurant.
The worst feature of this campsite was the single toilet, which was dark, awash with fluids of questionable origin , and constantly emitting a putrid odor. It was probably the worst toilet we had encountered on the entire trip and a place that all of us feared entering unless absolutely desperate.
Since this was to be the final evening when the whole crew was going to be together is was our opportunity for the customary end of trek party. A section of the campsite was prepared with some seats and a couple of electric lights and we all gathered together under a warm, early evening sky. Since Hille was the first town we had encountered that had reliable electric power we could see that many of the surrounding tea houses had decorated their balconies with strings of coloured lights. The whole place had a rather festive air to it.
A drum was produced and soon the singing started, first the Nepalese folk songs of the crew, then we responded by singing a few Australian songs in return. How glad we were that we had prepared a few items and these were really well received by our Nepalese hosts. With everyone thoroughly warmed up the dancing started and what a joy it was to be able to share some fun dancing together under the stars. I think that every kind of dance step known to man (and animal) were demonstrated and laughed at during the evening. I then made a short thank you speech to express our gratitude to all those who had made our adventure so successful. Finally the tips we had collected for the crew were distributed.
With the coloured lights glowing in the surrounding hillsides the laughter continued well into the night. What a fun way to complete the main part of our trek. We all knew that tomorrow we would have only a few short hours of walking left before we would meet the bus for our trip back to Pokhara.
Back in Pokhara
Although our tent technique was a lot more practiced than at the start of the trek, I would have to admit that I was not sad to say that we had spent our final night under canvas. The prospect of a real bed and a hot shower was enough to excite the heart of any intrepid (and dirty) trekker. After our final trekkers' breakfast we set off under a clear blue sky to start the final descent.
The first hour was relatively quiet but the foot traffic started to increase as the encountered the first of the day's many "donkey trains" and a succession of porters and trekkers making their way up to Ghorepani. Some of these donkey trains can include 30 or more donkeys, each colourfully adorned with a decorative headpiece and a clearly sounding bell strung under its neck. Apparently each of these bells has a unique tone and, when you hear them all ringing together, they make a beautiful melodic chiming symphony which will, ever after, evoke memories of our wonderful days in the Himalaya.
Not so pleasant was the sight of many more over laden porters battling to carry huge piles of suitcases up the hill. I cannot understand how any tourist can be so ill informed to bring such ridiculous luggage on a trek of this type. Did they think they were going to Paris or Rome ? I could not help but feel that this is a dark side of tourism that needs to be more regulated. Just because someone is willing to carry such a load does not make it acceptable to expect them to do so. I wondered what the health implications are for those poor men who are asked to perform such super-human tasks each day of the trekking season. And all just so that some tourist can take their pictures from Poon Hill !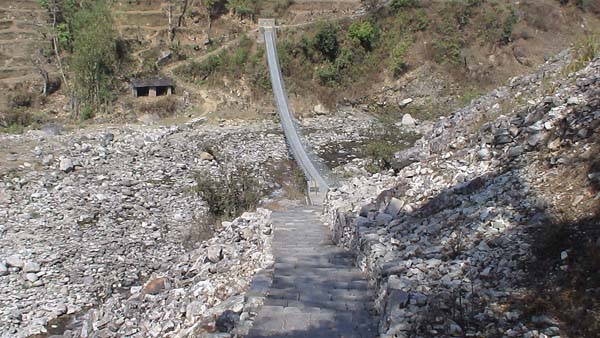 Large suspension bridge on the way to Birenthanti
For most of the morning for followed a small stream downstream and our walk was accompanied by the lovely sounds of the water bubbling happily around huge boulders and spilling over waterfalls. The water appeared crystal clear but we all knew that appearances can be very, very deceptive.
After the extreme cold we had experienced high in the mountains it was a refreshing change to feel the warmth of the sun on our faces and to be able to trek in only shorts and T shirts.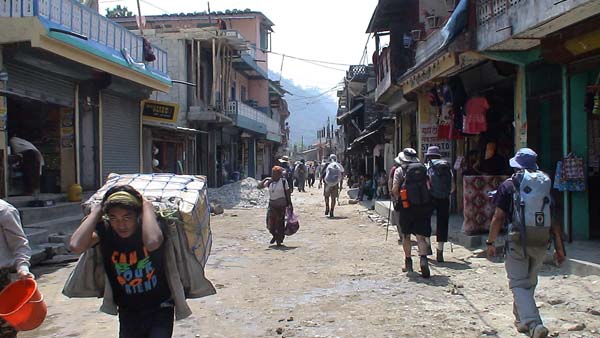 The "main street" of Birenthanti
By 12.00 noon we had reached the road head at Birethanti. There is always a dramatic change that takes place in the feeling and culture of a town when the road reaches it. Gone is the primitive naiveté that is apparent in the unspoiled mountain villages that has remained off the beaten track and in is the obvious evidence of the ugly discards of the consumer driven society, not to mention the incessant tooting and noise of diesel engines. Along with the proliferation of shops selling everything from beer to boots to audio CDs. If you look down at the path beneath your feet you find it strewn with plastic potato chip packets, cigarette buts, lolly wrappers and the like. It almost seems that pride goes out the window when the road arrives.
It left me with a sad feeling that all too soon so much of this area will be similarly despoiled irrevocably within the next few years. I wonder how long it will be before regular tourist helicopter rides bring thongs of camera toting tourists directly to Poon Hill at each sunrise. If that is going to be the case, then we were indeed privileged to have been able to experience it before, it too, becomes just a fading memory.
Once we were back in the domain of the diesel we followed the road for another 30 minutes or so before we could see our bus waiting for us. This point really marked the end of our trek and I suspect that all of our participants were a little regretful that it had come to a conclusion. All that now remained was the bus trip back to Pokhara where we would be able to indulge ourselves in our first real shower in 12 days.
Although Birethanti is only about 20 km from Pokhara in a straight line, the narrow road has to twist, turn and climb for over 40 km before the destination is reached. Avalanches and monsoon rains have washed away large sections of the bitumen into oblivion, meaning that we were regularly shaken violently in the cramped seats which were obviously meant for passengers of much smaller stature than us.
It took well over 75 minutes for us to reach the Hotel Tulsi which was to be our home for the next two nights. The hotel was clean and comfortable, however there was no electricity to welcome our arrival. With the power in both Kathmandu and Pokhara off for up to 20 hours each day to soon come to regard electricity as something to be savoured rather than expected.
The cause for the chronic power shortage is two fold. Firstly a serious drought has reduced the stream flow of some of the major rivers to such an extent that the hydro schemes that provide all of Nepal's power can only be run for short periods. In addition, al lack of maintenance (due to lack of finance) has left some of the major generators in such an advanced state of disrepair that they can barely function. This problem is currently the source of a major political debate in Nepal with copious amounts of buck passing and name calling. I guess some aspects of politics are the same the world over.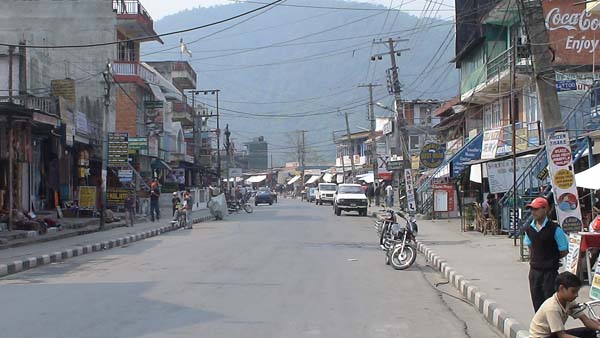 The main steet of Pokhara - note the comparitive absence of cars
Pokhara is a relaxed city with a much more orderly traffic flow than Kathmandu. It is almost impossible to get lost as almost all of the action takes place along the one main street. Our hotel was conveniently placed only a couple of hundred metres from this main street. We were relieved to find that, in spite of the lack of power, the water was still hot. We wasted no time in washing away the accumulated grime of the past 12 days and I changed into my final set of clean clothes.
The next urgent requirement was to get our laundry done. Subal directed us to a nearby camping goods shop that also proudly displayed a LAUNDY SERVICE sign. The enthusiastic proprietor promised that laundry would be washed and dried by 8.30 am the following morning – all for only 100 Rupees per kilogram. This seemed to be a pretty good offer and so we deposited numerous plastic bags of filthy clothes and went out to explore the shopping precinct.
I had last been in Pokhara in 1999, but soon found that very little had altered in the intervening years. The camping ground near the large Phewa Tal (lake) which had been our campsite now seemed to be mainly used as a general park and sports ground. I found a large number of workmen struggling to assemble a travelling carnival. The ferris wheel had been (almost) assembled but they were obviously a great deal more trouble putting the scenic railway together. There was much huffing and puffing with a tangled web of ropes, pulleys and pushing poles but the multitude of order givers seemed to be giving the (much smaller) number of order takers conflicting directions. I watched for some time as they unsuccessfully battled to maneuver a section of railroad into position. At that point I decided that I would NOT be buying the first ticket for a ride.
After a good night's sleep a few of us eagerly went off to retrieve our laundry. We were met with the news that the laundry was not ready and that we should come back in a couple of hours. I went off to investigate a suitable venue for the combined dinner that we would be sharing with Group 2 when they arrived in Pokhara . I had a long chat to the proprietor of a place called "ZORBA'S RESTAURANT and he was very keen for a chance to demonstrate his culinary skills. Subal came to check out the kitchen and declared that it was of an acceptable standard for our dinner.
When I returned a second time to collect my laundry I discovered that, it might have been washed but it certainly wasn't dry. In fact the soaking wet washing had been jammed back into the bag I had dropped it off in. I tried to explain that this was not what we were promised but the new attendant pretended she did not understand the problem. Figuring that the job had only been half done I paid exactly half the agreed figure and lugged my load of wet washing back to the hotel in search of a place to dry it. I eventually found a clothes line but pegs were conspicuously absent. I had no choice but to just drape my wet washing over the lines and hope that the wind would not blow them away.
Rather interestingly, Pokhara is home to a sizeable "hippy" population, many of whom moved here in the 70's and have stayed ever since. It is common to see balding gents with their grey ponytails wandering the streets with a far away glaze on their eyes. Younger Rastafarians ride rickety bicycles with the dreadlocks blowing in the wind. There are also large numbers of backpackers and adventure seekers either setting out or returning from their Himalayan treks.
In the evening the lights in the main street come on. If the mains power is off they quickly switch to portable generators. The amplifiers are turned up to 11 and the street takes on a cosmopolitan party atmosphere. In some respects Pokhara reminded me of a less affluent version of Li Jiang or Yangshuo - cities we had visited in our recent adventures in China.
When Group 2 arrived in mid afternoon we were finally able to catch up and compare experiences with them. Some unanswered questions were solved. To our surprise we learnt that Group 2 had decided to stay in tents for all but two of their nights on the trek. Obviously they must have had much milder conditions than the ones we had endured. They also told us that they had a clear morning on Kopra Ridge, enabling them to see and photograph all the nearby mountains.
After dusk we walked in a gentle drizzle of rain back to Zorba's where we enjoyed a final combined meal together. From this point on we all knew that the groups were about to split and reform as participants began to scatter in different directions over Asia. All agreed that it had been an amazing opportunity and an adventure to remember for a lifetime.
The food at Zorba's was quite good although the service was a little on the slow side. I felt a little sorry for the anxious proprietor who really tried so hard to make sure we were all happy. If only some businesses in the west cared so much for the satisfaction of their customers.
The Journey Draws to a Close
The following morning we said goodbye to Pokhara as we took the short flight back to Kathmandu. On this occasion the clearer skies gave us a spectacular panorama of the Himalayan chain towering over a sea of clouds. There is no doubt whatsoever that anyone who is privileged to witness this natural wonder of nature could ever forget it.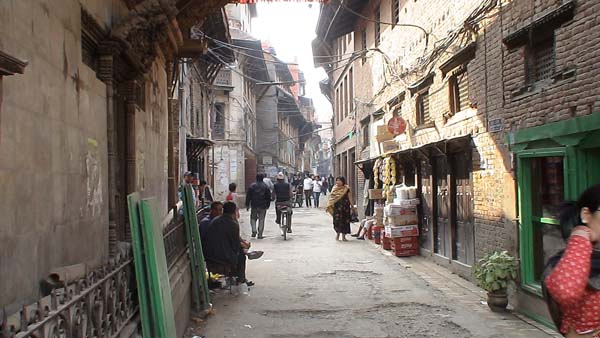 Narrow alleyway in central Kathmandu
We were soon back in the familiar territory that we had left 13 days earlier. In those 13 days so much had happened and so much within ourselves had changed forever. In any trip of this nature it is always a "journey of personal discovery" in which you learn as much about yourself as you do about the country you are travelling through. When we are taken out of our comfort zone and put to the trial we quickly discover our own strengths and weaknesses. In several instances we were confronted with challenges unlike anything most of us had previously experienced. In such a situation there is always an inner voice crying out "I can't do this", however when there is no other option than to proceed , it is amazing just what the power of the mind can achieve. When such a challenge is met, confronted and overcome what a triumph it is for the person concerned. I have no doubt that every one of our trekkers have discovered inner strengths they never dreamed they had.
One obvious change we noticed in Kathmandu was that the streets were uncharacteristically quiet. Apparently this was due to some serious dispute within the fuel distribution system. Most of the petrol stations were closed, gated and surrounded by armed guards. The couple that we saw open had queues of cars, trucks and motorbikes many hundreds of metres long. These queues snaked for so long that those at the end would have had to wait for many hours before they would have any hope of getting a turn. So now you could add fuel shortage to the litany of other shortages and problems that beset this most unfortunate of places.
There is a long standing tradition in Nepal that all successful climbing and trekking expeditions celebrate their achievement at the famous RUMDOODLE Restaurant in the Thamel district. We did not want to be an exception to this excellent tradition and in the evening we took the 20 minute walk from the Radisson Hotel to the most fascinating restaurant I had probably ever visited.
The place was comfortably crowded and spread out over many interconnected rooms and different levels. Completely covering the walls (and a large part of the ceiling) are thousands of paper feet, each bearing testimony to the efforts of a different adventuring group of trekkers or climbers. It made fascinating reading to study these records of past triumphs and tribulations, some dating back at least 25 years. Of course a blank foot was produced and we proceeded to make sure that our adventure would also be on permanent record in this quaint corner of Kathmandu for all future adventurers and dreamers to see. After a short time a work of art was produced proudly recording the great achievements of the Warby Ghost Riders.
When it was time to return to the hotel a steady drizzle had started and I decided to accept the offer of a ride from a bicycle rickshaw owner. He seemed an honest and hardworking young man and, when I arrived at the hotel I gave him considerably more that the sum we had agreed upon. In a country like Nepal there is a time to bargain and a time to bless and sometimes you need to follow your intuition to decide which is appropriate. I went up to my room feeling that we had all enjoyed a most successful evening.
I spent a warm night lying on top of the bed with a noisy thunderstorm for entertainment. In the morning a couple of our group had booked an early morning flight over Everest and the storm would almost certainly ensure that they would experience clear skies.
As I write these final notes it is now 3.30 pm and I am seated at the upper floor of KC's Restaurant, right in the heart of Thamel . Below me I can study the continuous cavalcade of humanity passing by, accompanied by the sounds of distant music, a melting pot of languages from around the world and the ever constant background noise of toots and motorcycle engines.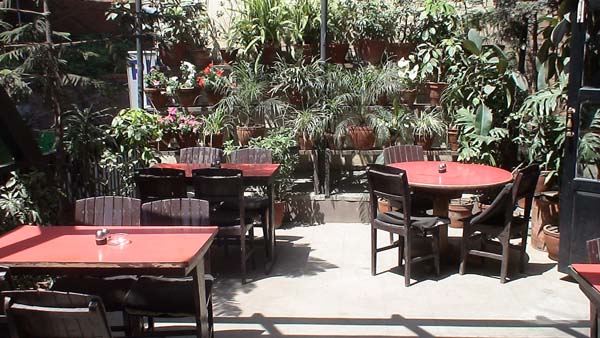 Rooftop Terrace at KC's Restaurant in Thamel
I had discovered this little refuge on my previous visits to this city and I was pleased to find that it had not changed. There is a gentle warm breeze rustling the prayer flags and the leaves of the numerous large pot plants nearby. Overhead the sky is about as blue as it ever gets in this city and I can't help but feel a great sense of well being. After so many long months of planning it was now possible to really relax and just enjoy the remainder of the trip.
It also gave me a chance to assess my feelings for Nepal and for Kathmandu in particular. How on earth do you describe a city with so many parallel problems ? For anyone new to this place it is hard not be overwhelmed by the pollution, over population, power and petrol shortages, protestors and the abject poverty that is all around you. I have watched the expressions on many travelers faces as they leave the airport and witness this place for the first time and I tried hard to warn all our group members that it is hard not to suffer culture shock. Yet I feel that the real Kathmandu is something more than what you see from the bus window.
If you delve a little below the surface it can be both frustrating and fascinating at the same time.In spite of the crumbling infrastructure, the noise , the smoke and smells, the people are indeed unique. How they continue to function in the face of such daily obstacles is hard for a westerner to grasp, but survive they do, and in many cases even seem to thrive.
When I first came to this city on 1997 the single thing that I was captured by was the people. I have not yet encountered any others like them who are so cheerful and friendly in spite of the bad hand they would appear to have been dealt. Most Nepalese are bright, loyal, honest and make fantastic friends. On a trek they will bend over backwards to ensure the safety and well being of those they are looking after.
I am not sure what the future holds for Nepal, whether it will ever be able to drag itself out of the bottomless pit it seems to be slipping into or whether the new Maoist Government will be able to make any lasting change to the long history of corruption and nepotism that has reigned for so long at all levels of government. I am also not sure whether I will ever have the opportunity to return to the so called "Roof of the World" but I would encourage all those who read this simple account to add such a trip to their list of things to do before they die. I promise that you will never forget it.
On a final note I heard this morning that the fuel shortage that has paralyzed much of Kathmandu's vehicles has been "solved". Apparently the problem was triggered when the government tried to band all petrol tankers over 20 years old. In a country where the average age of trucks is probably closer to 30 years, it would seem to have been an ill-informed decision. They have now realised this, reversed the decision and traffic can move again.
Tomorrow I leave with 9 others for India – but that's a story that will have to wait for another day.
Dennis Dawson – Kathmandu, April 2009.