History of the Telstra Research Laboratories
The Big Walk
It was the first day for the Block T people to report to Blackburn Road.

However, partly by force of habit, David Potter, Robert Ayre, and Gavan Rosman went as usual to 10 Lonsdale Street. There they picked up the name plate that had greeted them every morning for so many years as they entered the building to sign on.

A steel plate, with gold lettering on black enamel. Height 24 inches, width 18 inches, weight 2.2 Kg.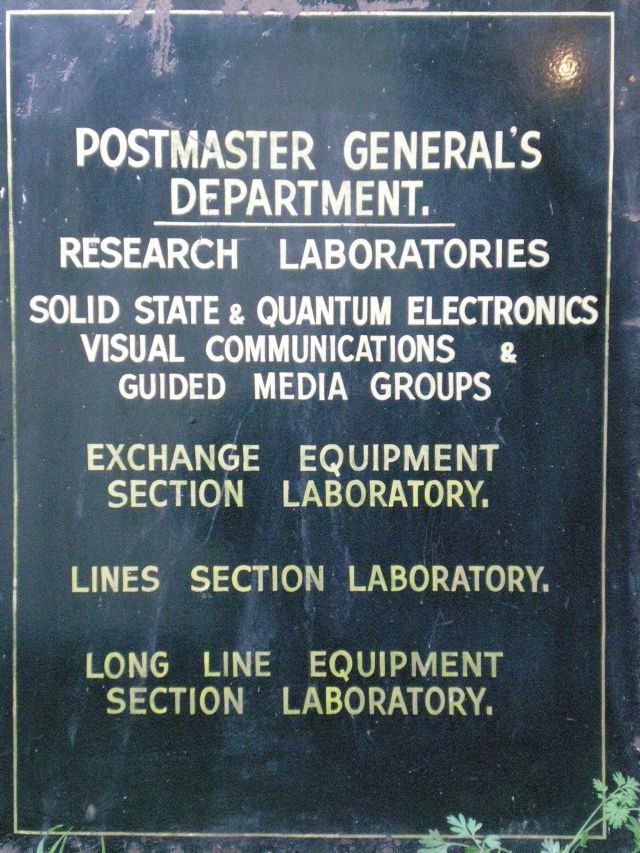 The idea was to carry this object to the new laboratories, on foot. Both Rob and Dave were experienced walkers, but Gavan only walked to the station. He sought and took Rob's advice and procured a pair of Explorer socks. This was to be his only preparation.

After a last look around the stripped labs they set off. It was a fine day, and in the morning nature had set the thermostat to comfortable. The aim was to get some shade where possible by walking near water courses that lay between Spring Street and Clayton.

The shade part worked out better than expected on the way out to Malvern Golf Course by Gardiners Creek, but it wasn't exactly a paved smooth surface. The new Explorers were going fine, but Dave had decided to wear a fairly new pair of boots. Blisters by Tooronga. Just mentioned in passing at a drink stop, and no cause for concern.

Nearing Holmesglen, media people were sighted in the golf course bushes.

Over lunch at Warrigal Road, a daring plan emerged. We could cut the distance by walking along the new road works. A high speed freeway had been planned to solve forever the traffic problems of the area. Most of the grading had been completed, and it would take us all the way to Blackburn Road. This day a high speed walkway.

To boldly trudge where no-one had trudged before.

But the dust, oh the dust. And no escape up the steep cuttings.

Then came the machines, playing "chicken".

Straight at the walkers, diesel roaring and driver grinning.

The low point, the start of doubt.

Then up above on an overpass, words of hope, "Forster Rd"

And so a little way to Blackburn, and down the hill to our new lab. The first familiar face was John Craick, who had arranged for some bubbly to celebrate our arrival.

And we poured a little over the sacred name plate we had not thrown away.

In memory of all those City Years.